Dead whale theft suspect's photo issued by Norfolk Police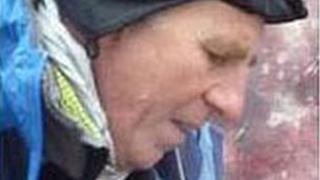 A photograph of a man thought to have been involved with illegally possessing remains of a dead sperm whale has been released by Norfolk Police.
The corpse, which washed up on Old Hunstanton beach on Christmas Eve, was later found to have had parts removed.
Police said they wished to speak to the man who was photographed on the beach at 12:00 GMT on the day it was spotted.
Norfolk Police previously questioned a youth over claims whale parts were offered for sale on Facebook.
A police spokesman said the man was unlikely to face prosecution.
The sale of ivory from the corpse would be deemed a criminal offence.
Contractors removed the dead whale from the beach last week, the Borough Council of King's Lynn and West Norfolk confirmed.