Campbell's Tower in King's Lynn to be blown up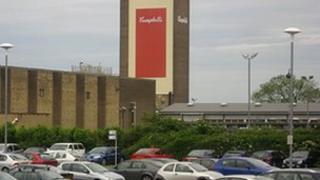 A woman whose father was scalded to death at a factory is being given the chance to blow it up.
Sarah Griffiths will trigger the demolition of the Campbell's factory tower, King's Lynn, Norfolk on Sunday.
Hundreds of people from the area are expected to turn out to watch the demolition.
But for Ms Griffiths the event is a "chance for closure" after her father Mick Locke was killed at the site in 1995.
The tower and the former factory is making way for a new retail and leisure complex at Hardwick.
Ms Griffiths, 41, was selected to detonate the tower in a competition run by local paper the Lynn News after she explained about Mr Locke's death, who was killed when he was hit by steam.
She said: "I feel honoured that I have been chosen against so many other people - I hope they understand my need to do this.
"The tower is a constant reminder that I have been robbed of my dad.
"I'm a bit choked up about it because it's a big thing for me to do and I feel very pleased to be given the chance of closure."
The tower will be brought down at 08:00 GMT on Sunday, a spokeswoman for the new Campbell's Meadow complex said.
The demolition of the tower was supposed to take place in November but was delayed on safety grounds.
It forms the final part of clearance at the Hardwick site, which is set to become a new £40m shopping and leisure complex.
Campbell's former owners Premier Foods closed the King's Lynn factory in 2007 and moved production to other sites.
Watch explosion
It was the American firm's first UK base when it opened in the 1950s, employing thousands of workers.
For safety, Campbell's Meadow will be shut on Sunday from 07:30 until 08.30 GMT.
A spokeswoman for the complex said the Hardwick Road and A47 around the site would stay open and the nearby trainline would be unaffected.
Members of the public wishing to watch the demolition will be directed to the B&Q car park opposite the site.
They should reach the viewing area before 07:30 GMT.