Norwich City Council reaffirms King's Lynn incinerator opposition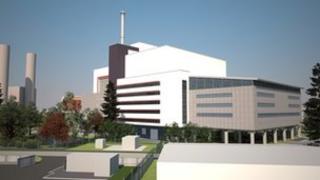 Norwich City Council has reaffirmed its opposition to a proposed £500m waste incinerator by expressing its concerns to the government.
The council confirmed it had reinstated its objection to the plant at Saddlebow in King's Lynn to Environment Secretary Caroline Spelman.
Ms Spelman is deciding whether to release PFI credits for the incinerator after objections were raised.
Norfolk County Council gave the incinerator the go-ahead in March 2011.
In November Ms Spelman decided to hold back £169m of promised government funding until more evidence of local support was produced.
The Borough Council of King's Lynn and West Norfolk, some local MPs and residents have already condemned the building of the incinerator.
In a letter to the environment minister, Norwich City Council leader Brenda Arthur wrote: "This council confirms its opposition to any form of incineration of Norfolk's waste.
"Key concerns include:
(1) the effect of emissions on human health and the environment;
(2) the fact that incineration contracts with private companies create a demand for waste, when the primary objective must be to reduce the amount of it that is produced."
The city council's objections to waste incineration were made public in 2007 when plans were put in place for an incinerator to be built on the outskirts of Norwich.
Mike Knights, from Farmers Campaign against the incinerator, said the letter was "highly significant" in bringing the debate to Ms Spelman's attention and hoped it would "expose things for what they are".
If the PFI funding was awarded, Mr Knights said campaigners would take the decision to the High Court for judicial review.
A previous bid by campaigners in December for a judicial review into the way Norfolk County Council awarded the incinerator contract to a private company failed.