Norovirus forces Norfolk hospital wards to close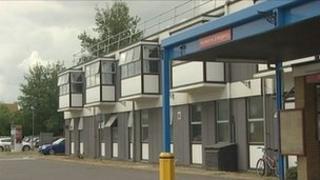 Wards at the three main hospitals in Norfolk have been closed to new visitors because of an outbreak of a vomiting bug among patients.
Wards 12 and 15 at the James Paget University Hospital have been closed since the weekend to contain the spread of confirmed Norovirus.
Five wards at the Norfolk and Norwich University Hospital have been shut while it tests for the virus.
A ward at the Queen Elizabeth Hospital in King's Lynn has also closed.
Patients in Necton ward are currently suffering from "diarrhoea and vomiting", a spokesperson said.
The three hospitals said people who have symptoms should avoid visiting the premises as staff try to contain the outbreaks.
The Norfolk and Norwich University Hospital asks that only close family members visit the hospital and that they do not bring in children under 12.