Great Yarmouth: Last chance on parking permits consultation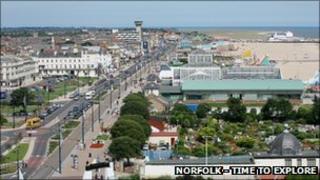 The consultation period for a proposal to scrap residents' parking permits in a Norfolk town concludes on Friday.
Charles Reynolds, deputy leader of Great Yarmouth Borough Council, has called for the scheme to end as it is operating at a year-on-year loss.
Local business owners say the scheme is essential to ensure people can park near their holiday accommodation.
The outcome of the consultation, which started in November, is expected in June 2012.
"I can't predict the outcome but we must alleviate the deficit. Any resident parking schemes should be self-financing," said Mr Reynolds.
"The scheme lost nearly £97,000 last year and it's predicted to have an estimated loss of £80,000 in 2012.
"This problem must be addressed now and we hope this consultation with the people affected will provide some good ideas on how we can take things forward."
There are currently around 600 permits issued but the cost of administration and providing wardens means the council has to subside each person to the cost of £165.
Jane Reynolds, owner of the Merivon Guest House on Trafalgar Road, fears for her business if the scheme is scrapped.
She said: "The permit scheme means the business continues or it fails.
"It's important to my customers they have somewhere to park their car at the end of the day.
"Who wants to be riding round the town trying to find somewhere to park that could be 20 minute walk in the pouring rain back to their guest house or B&B?"
Peter Fitzgerald is leading a group Great Yarmouth residents fighting the plans.
"There are problems with the current scheme, but we don't believed by scrapping it we're going to end up in a better situation," he said.
"I believe we've got to look at the problems it's had over the years and set about putting together a scheme that is better for everybody."
People have until 13 January to add their views to the consultation.