Hunstanton RNLI invites mums to join lifeboat crew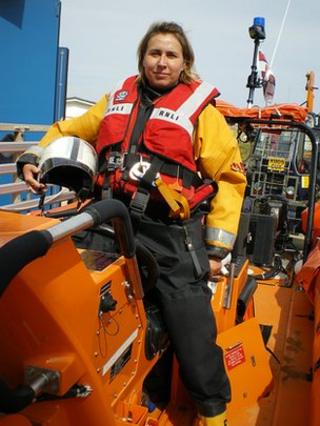 The RNLI at Old Hunstanton has raised its own distress call in a bid to find volunteers to crew the inshore lifeboat during daylight hours.
Only four of its 20 crew are available during the day. It hopes that mothers will be among those who come forward.
"If the children are at school, mums may have the flexibility in their day to be a volunteer," said the RNLI's Amy Ross.
An open day for volunteers will be held in Old Hunstanton on Sunday 15 January.
"The station is in dire need of operational volunteers as daytime cover is at an all-time low," said RNLI east divisional inspector Andrew Ashton.
"We need more local volunteers, whether these are mums with a bit more time on their hands during the daytime or people working locally, who could lend a hand.
"We want to encourage people from all walks of life."
Leesa Espley, 40, and mother of three-year-old Bonita, joined the Hunstanton lifeboat nine years ago.
She was the first woman to gain a licence to pilot an RNLI hovercraft, one of two rescue craft operated in the seaside town.
"When I moved to the area I wanted to do something for the community that was connected to the water," she said.
"Joining the lifeboat was a natural extension of my interests in swimming and lifesaving as a youngster.
"There are times when you think 'I'm risking my life' but you're out there with the highest level of RNLI training and equipment - you're trained to do it and get on with it.
"The teamwork and camaraderie is incredible. Being part of that gives you a real sense of achievement and the crew is like an extension to your family, you really look after each other.
"When I've got my daughter with me I'm clearly not available for a shout and you can book yourself off, but now she goes to nursery I'm able to once again offer cover.
"It is the daytime cover that causes stations the most problems, but if you've got your children in school this is something that you really can consider as a way of giving something back to the community."
Getting volunteers in Old Hunstanton is a particular problem for the RNLI due to the high percentage of retired residents, second holiday homes and the transient seasonal population.
"We're very restricted as we're in a holiday area, there's not the youngsters about like there used to be and people are now working away.
"I'd say that if you're anything more than five miles out from Old Hunstanton you'll never make it [to an emergency call]," said Geoff Needham, from Hunstanton RNLI.
The RNLI operates six lifeboat stations in Norfolk, at Hunstanton, Wells-next-the-Sea, Sheringham, Cromer, Happisburgh and Great Yarmouth. Independent crews operate at Hemsby, Mundesley and Caister-on-Sea.
Volunteers for Hunstanton's Spirit of West Norfolk, an Atlantic 85 inflatable lifeboat, need to be between 17 and 40 years old. No experience is necessary.