Human remains found on Sandringham Estate in Norfolk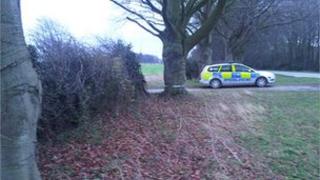 Police have started an investigation after human remains were discovered in an area of woodland in Norfolk.
A member of the public is said to have made the discovery at Anmer, near King's Lynn, on New Year's Day.
The area is about three miles from Sandringham House on the 20,000-acre (8,000 hectare) Sandringham Estate, the Norfolk retreat of the Queen.
The area was sealed off and police and forensic science experts are carrying out a detailed search.
The incident was reported to police shortly after 16:00 GMT on 1 January. No further details have been released by Norfolk Police.