Dead sperm whale found on Norfolk beach a 'health hazard'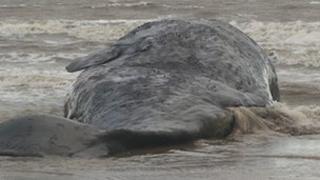 A dead sperm whale washed up on a Norfolk beach has become a health hazard, officials have said.
The 55ft (16.7m) whale was found in Old Hunstanton, Norfolk, on Christmas Eve and has become an attraction for tourists.
Health advice has been issued urging people not to touch the corpse or allow dogs to come into contact with it.
It warns shellfish in the area should not be consumed and says water quality could be affected.
A spokesman for the Department for Environment, Food and Rural Affairs (Defra) said: "Approaching or handling the animal may pose health risks and should not take place without the proper authority and protective measures."
King's Lynn and West Norfolk borough council said a licensed operator would start removal of the whale next week.
The beach will be closed while the operation takes place.
Police are investigating claims a man tried to sell the jaw of the whale, thought to have died from natural causes, on Facebook.
A user of the social networking site claimed he was willing to sell the bones and teeth.
Norfolk Police said officers were investigating whether a criminal offence had taken place.