Police probe 'Facebook sale' of Norfolk whale corpse teeth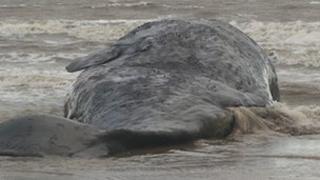 Police are investigating claims a man tried to sell the jaw of a dead sperm whale on Facebook.
The 55ft (16.7m) whale was washed on to a beach in Old Hunstanton, Norfolk, on Christmas Eve and has become an attraction for tourists.
A user of social networking site Facebook claimed he had the whale's jaw and was willing to sell the bones and teeth.
Norfolk Police said officers were looking into the claims.
"We are investigating to see whether a criminal offence has taken place," a spokesman said.
Brian Long, environment portfolio holder at King's Lynn and West Norfolk Borough Council, condemned any move to profit from the whale's corpse.
He said: "It's sad if somebody is seeking to make gain out of this poor animal's death."
The whale is thought to have died from natural causes.
Experts say the corpse is expected to be washed away in the next strong tide.