New Year Honours: MBE for Stalham Brass Band leader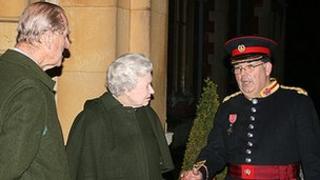 A Norfolk band leader has followed in his father's footsteps to be appointed MBE for services to Stalham Brass Band, youth music and the community.
Dr Tim Thirst, 58, said: "It feels very nice to be recognised by the community, the band and children I've taught."
Dr Thirst's father Gerald, who was also a director of music with the band, was awarded the same honour in 2000.
"I think it's quite rare for father and son to get an MBE for the same service," Dr Thirst said.
"It's now just 10 years since my father was awarded the MBE for his services to Stalham Band. He died a few months before his investiture, but we were offered a private audience with the Queen.
"My mother received the MBE on his behalf. We were very sad he couldn't be there, but he knew he'd received it and I know he was very proud."
'Giving something back'
Performing with the Stalham Brass Band has been a life-long commitment for Dr Thirst.
Surrounded by the sound of brass since an early age thanks to his father's leadership of the band, Dr Thirst started playing the cornet aged nine and celebrates 50 years with the band in 2012.
He said: "Fifty years does seem a long time and it can sometimes seem a hard slog, but it's about giving something back to the community.
"I think we should all do that. If not, we won't have organisations such as Girl Guides or local youth clubs - they are all needed, especially by young people.
"I think if you expect your children to be able to take advantage of community bodies, like the brass band, I think everybody needs to try and give their bit back to help support those organisations."
Other New Year Honours appointed in Norfolk go to:
MBE
Dr Gerry Barnes for services to forestry and the community
Jane Codona for services to the Gypsy and traveller community
Peter Griffiths for services to heritage
Michael Muskett for services to social enterprise aid and to the community in Norfolk
Michelle Salter for voluntary service to the SSAFA Forces Help in Norfolk
Dennis Slaughter for services to motocross
Gillian Waters for services to elderly people at the Edith Cavell day centre
Royal Victorian Medal (RVM)
David Benefer, glasshouses manager, Sandringham Estate