Cley Marshes: Western sandpiper at Norfolk Wildlife Trust reserve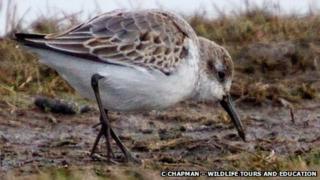 The western sandpiper, a rare North American wading bird, has been identified at Norfolk Wildlife Trust's (NWT) reserve at Cley Marshes.
It is the first time the species has been seen in Norfolk with around eight ever recorded in the UK.
Discovered by Cley resident and keen birder Mark Golley the juvenile bird measures 15cm (6in) from tail to bill.
"Norfolk is a premier county for bird species so to add one more to the list is great news," said Mr Golley.
The bird was initially identified as a semi-palmated sandpiper, in itself a rare visitor to the county from its usual breeding grounds in north America, but ongoing consultation with researchers in the United States confirmed Mr Golley's sighting as a western.
'Like a chameleon'
"It was a real identification conundrum as it's like a chameleon depending on the light," said Mr Golley.
"Westerns tend to malt [change] a lot quicker from their juvenile features to grey winter plumage but this hasn't done that which caused us the problems in identifying it.
"It was clearly something very rare from day one, but as the realisation crept in that it was a western the excitement really ramped up.
"The whole thing has been a fantastic event, huge excitement and then unravelling the identification over 48 hours by consulting on both sides of the Atlantic has been a truly unique experience."
Staff at the reserve estimate more than 2,000 people have visited Cley Marshes in the hope of seeing the migrant visitor including birdwatchers from France, Belgium and Germany.
Waders are hugely versatile birds and can adapt to many environments.
"I've seen it on the reserve this morning so unless something changes in terms of the weather or there's so much rain the reserve becomes flooded there's no reason for it not to stay. It plainly thinks it's on its wintering ground," said Mr Golley.
"It'll be just as happy on the mud flats at Blakeney Harbour or out on Cley Marsh, as it would be on a beach in Florida or further down into south America."
If the western sandpiper stays in Norfolk until 1 January it means bird watchers can start their 2012 list with a "top drawer" spot.