Cromer Boxing Day dippers honour Holt man Jeff Dodds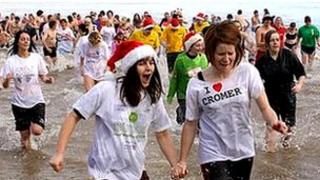 Hundreds of people are set to take an icy fundraising plunge in the North Sea at Cromer on Boxing Day.
The event is in memory of Norfolk beach runner Jeff Dodds, 50, from Holt, who died in July from a brain tumour.
Organisers are using the event, which starts at 11:00 GMT, as a tribute to Mr Dodds, a regular at the annual dip.
"Jeff wished donations to his memory go towards The Big C, hence it being our charity for the 2011 dip," said Clive Hedges, of North Norfolk Beach Runners.
Jeff Dodds worked as a scriptwriter and wrote for many household favourites including Peak Practice, The Bill, London's Burning, Casualty, Holby City and Midsomer Murders. He is survived by wife Lottie and two daughters Lucy and Zoe.
Annual dipping started in the seaside town in 1985 when "foolhardy" members of the Beach Runners decided to do it as "a bit of a dare".
Organisers estimate the Cromer event to now be one of the largest festive dips in England with thousands of spectators lining the tiered promenade and pier to watch the festivities.
Last year's event was one of the best on record with more than 100 people braving the water.
"We had something in the region of 120 dippers and by the response I have had this year it could even be greater still," said Mr Hedges.
"Last year the tide was high with the wind off the sea. I'm not aware that anyone measured the temperature of the water but we were informed that Cromer had the coldest water temperature in England that day. It's unsubstantiated of course, but my bones could vouch for it."
Boxing Day weather
The forecast for Boxing Day is favourable for the dippers.
"The guys heading to Cromer for a dip on Boxing Day can expect milder than average temperatures for the time of year," said weather forecaster Chris Bell.
"The air temperature will reach up to around 10C (50F) during the middle part of the day, that's about 10C warmer than this time last year, with sea temperatures around 8C (46F).
"The only drawback will be getting out of the water, with a moderate to fresh southwesterly wind that may make it feel quite a bit more chilly and could make the sea choppy too."
Seasonal thrill-seekers can also brave a few moments in Norfolk's chilly seas with Boxing Day dips at Overstrand and Mundesley. The annual Hunstanton fancy-dress dip takes place in The Wash on Christmas Day.