Concerns over Climategate inquiry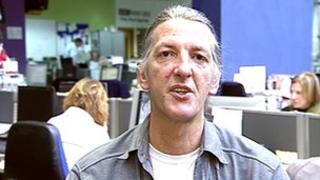 Police who seized computers as part of the Climategate inquiry involving the University of East Anglia (UEA) have been accused of being "heavy-handed".
A Norfolk Police inquiry started after emails from the UEA's Climate Research Unit (CRU) were hacked in 2009.
Last week six police officers went to the Leeds home of a blogger and seized two computers.
Blogger Roger Tattersall said he was "shocked" by the incident. Police said the inquiry is continuing.
In 2009, 1,000 emails from the CRU were leaked and posted on the internet and used by some campaigners to try to discredit theories about man-made global warming.
'Partner upset'
The scientists were later cleared of manipulating their data, but as yet no one has been arrested.
Last week Norfolk Police raided the home of Mr Tattersall, who is a climate-change sceptic and writes an internet blog, and confiscated the computers.
He said: "I was bemused by the police action because there is nothing on my computers that has any kind of logs of comments that are placed on my blog.
"The police told me that I'm not a suspect in any crime and so I am a little bit lost as to understand what they hope to find on my personal computers.
"It's obviously quite a shock to suddenly have police coming in to your house and removing your property."
He added: "My partner has been very upset by it and that's of course upset me as well."
Mr Tattersall said police were interested in a comment posted on his blog which linked to a US website where the leaked emails could be downloaded.
"The bloggers aren't really responsible for every comment that's placed in the open public comments sections on their blogs," he said.
"The police have been very clear that I'm not a suspect in any crime and it's not illegal that my blog had this comment placed on it and people were able to go and download these emails, so I'm really just puzzled as to the police action at this stage."
'Doing something'
He said that "all the logs for the activity on the blog" were on a server outside the UK.
Another blogger Adrian Kerton, of Stoke Difford, near Bristol, has also been contacted by Norfolk Police after he put in a Freedom of Information request to the UEA.
"I got rung up by Norfolk Police investigating the leaking of emails from the UEA and they asked me various questions - who I was, did I have any academic qualifications, how many computers I had...
"I responded to them because I had nothing to hide and suggested actually that what they were doing wouldn't help them at all in their investigation, to which the officer replied 'we have to be seen to be doing something'.
"I think the police don't understand what they're doing. They've raided a blogger in Yorkshire but all the information that they required would be on servers in the United States."
A Norfolk Police spokesman said: "The enquiry team has been determined and persistent in following all relevant lines of enquiry, some of which have been international in nature.
"This adds further levels of complexity and can be time consuming as legislation, policy and practice varies considerably between countries. Such enquires continue and the investigation team awaits the outcome of these."