Norfolk councils look to 'borrow £100m' for infrastructure shortfall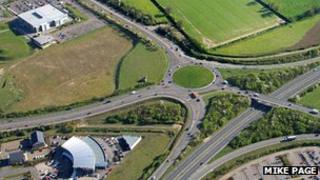 Authorities in Norfolk are deciding whether to borrow £100m or scale back infrastructure projects in the county, a district council leader has revealed.
John Fuller, from South Norfolk Council, said out of £450m worth of earmarked projects, including road improvements, councils could only raise £350m through a levy on new homes.
He said councils were now discussing ways to borrow the shortfall.
He added the loan would likely last over 20 years to ensure repayment.
'Better infrastructure'
Mr Fuller made the announcement after meeting with members of Norfolk's Joint Core Strategy for economic growth, which includes Broadland District Council, Norwich City Council, South Norfolk Council and Norfolk County Council.
Infrastructure improvements being outlined by the group include building the Norwich Northern Distributor Road (NNDR), a Long Stratton bypass and updating the B1108 around the University of East Anglia.
Mr Fuller said many of the projects would be paid for by a new community infrastructure levy of £12,500 per house, charged to home developers.
The Department for Transport last week offered £86.5m towards building the NNDR.
But Mr Fuller said government grants for other projects were unlikely to be handed out in the current economic climate and councils now had to discuss borrowing money to fill the shortfall, or they would have to "scale back" their plans.
"In total across Norwich, Broadland and South Norfolk, we estimate there could be up to a £100m shortfall in the amount of infrastructure that needs to be provided," said Mr Fuller, leader of the Conservative group at South Norfolk.
'Best chance'
"To address that shortfall we're considering borrowing some money.
"Being realistic and proactive, if councils can borrow some of the money, with the majority of it being repaid by the community infrastructure levy, then we've got a situation whereby the infrastructure could be provided as well as homes that people need to live in."
Mr Fuller said new houses in the county provided the best chance of guaranteeing funds for a better infrastructure.
He added councils were currently in talks with accountants to determine the cheapest way to borrow the money.
The borrowing would likely occur through local authority bonds.