'World's shortest' double yellow lines on Norwich street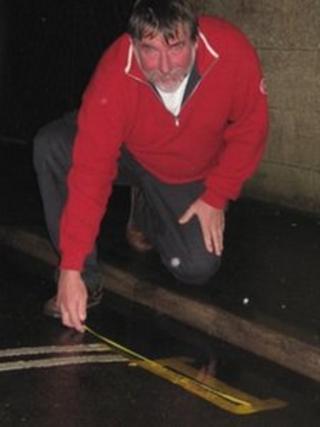 Double yellow lines measuring 17in (41cm) on a Norwich street are laying claim to be the shortest ever painted.
The lines were laid down in the city's Stafford Street to distinguish a permit parking zone from a two-hour limit bay which all drivers can use.
The lines were measured by the landlord of the nearby Alexandra Tavern who said he did not know why they were painted.
Bert Bremner, from Norwich City Council, said that in hindsight the short lines had perhaps "gone too far".
Landlord 'Tiny' Little said his customers thought the lines might claim to be the shortest in the world.
"We came out and measured them and they're 17 inches long.
"I've no idea what kind of vehicle you'd put on there," he added.
Mr Little said he wanted to see what sort of vehicle could get a ticket on such a short double yellow line.
"I haven't seen a traffic warden yet, but I'm sure we will," Mr Little added.
Mr Bremner, a city councillor, said: "They were put down to make things clearer for permit holders, but in hindsight perhaps they weren't needed.
"Local people said it was not obvious where the dividing line was so a decision was made to put in a small section of double yellow lines.
"It's the only one in the city and I don't think there will be any more. I wish they weren't there," Mr Bremner said.
"As a councillor you are expected to do many things for residents but getting into the Guinness Book of Records for the shortest set of double yellow lines isn't one I anticipated."
A developer had paid for the yellow line painting and it had cost the city council nothing, he said.