Blakeney Point sees a 'meteoric' rise in grey seals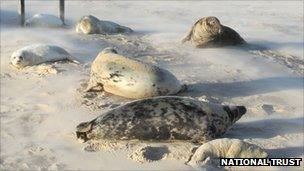 The population of grey seals on the Norfolk coast has seen a "meteoric" rise, with a record number born this year.
More than 750 pups have already been born at Blakeney Point this winter, compared with 25 pups born in 2001.
John Sizer, National Trust property manager for the Norfolk coast, said the increase could be down to the availability of food.
"It is a meteoric rise," he said.
The first recorded grey seal pup born at the National Trust nature reserve was in 1988.
Grey seals numbers at Blakeney Point have increased steadily over the past 10 years, reaching 175 in 2005 and just under 600 in 2009.
Mr Sizer said wardens were constantly surprised by the annual increase in grey seal numbers.
"We are a bit puzzled as to why there is this year-on-year increase," he said.
"They are part of what makes our coast so special. They are a charismatic draw."
This breeding season, more than 850 pups are expected to be born.
Including mothers and bull seals, the total grey seal population at Blakeney Point is now more than 1,800.
Mr Sizer said the availability of food and the protected environment were probably factors in the booming population.
But the biggest threat to the rising numbers of grey seals could be the public and dog walkers, hoping to catch a glimpse of the popular mammals, he said.
"The reason the seals are at Blakeney is because it's so remote and undisturbed," he said.
"The biggest impact is likely to be the public at large wanting to get close to see them."
Related Internet Links
The BBC is not responsible for the content of external sites.