Caister-on-Sea sand rescuers given award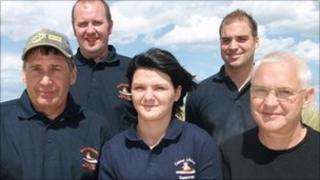 Three men from Norfolk who rescued a teenage girl after she was accidentally buried by sand are to be honoured for saving her life.
Andrew Hewitt, 35, Paul Williams, 51, and Thomas Williams, 27, have been awarded a Royal Humane Society Certificate of Commendation.
The Caister Lifeboat men rescued Paige Anderson, 15, in August from under 6ft (1.8m) of sand after a tunnel she was digging collapsed at Caister-on-Sea.
The awards will be made in January.
Miss Anderson and her older sister Jade, from Kent, were on a family holiday as they dug two holes in the sand on the beach near Great Yarmouth.
As Paige attempted to go through a tunnel connecting the two holes, the sand fell in burying her.
"Remarkable efforts"
Paul Williams, whose son Thomas was also involved in the rescue, said: "Me and my son are very proud to be recognised by this award, but to be honest it was a case of being in the right place at the right time - we were lucky we'd got some shovels.
"We never thought she'd be alive. I think that's why we kept such a cool head, she was so deep down we thought we'd be digging out a body."
Mr Williams, his son and Andrew Hewitt caught some of Miss Anderson's hair in their shovels and then dug her out by hand.
"Her face was absolutely purple, but as we pulled her she groaned and started coming back to life, it was like her body had gone into shutdown," said Mr Williams.
"Two days later she visited us at the lifeboat shed saying all that hurt was her back, but there was no brain damage or anything.
"We took her out for an afternoon on the lifeboat so she had something nice to remember rather than the accident."
Dick Wilkinson, secretary of the Royal Humane Society, said: "[Miss Anderson] owes her life to the remarkable efforts of these three rescuers, who risked their own safety due to the risk of further collapse.
"I know Paige's family will be forever thankful to them, and I hope these awards go some way to expressing their gratitude."
The awards were made on the recommendation of the Rector of Caister and HM Coastguard.