Norwich Northern Distributor Road gets government funding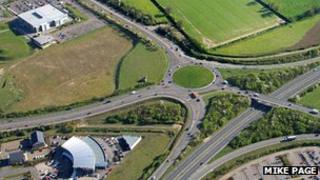 The Department for Transport (DfT) has announced £86.5m in funding for a new bypass around Norwich.
The Norwich Northern Distributor Road (NNDR) will run to the east and north of the city, with a new junction to be built on the A47 at Postwick.
The county council said the grant meant work on the road could begin next year.
But the Campaign for Better Transport group said it was "disappointed" with the decision, saying there were "better and cheaper" plans for Norwich.
The total cost of the project is expected to be £111.1m, according to the DfT.
The initial route of the dual carriageway will run from Postwick to the A140 north of Norwich Airport.
'Sustainable transport'
A further section across to the Fakenham Road has not yet been agreed by the government, but is part of future plans outlined by Norfolk County Council.
The council said the economic benefits of the road would be about £1.3bn.
It said the remainder of the bypass costs would mostly be funded by local authorities through a Community Infrastructure Levy, which has been agreed in principle by the Greater Norwich Development Partnership (GNDP).
The NNDR was approved on Wednesday by the government along with 20 other local transport schemes across England.
The DfT has given the project approval subject to Norfolk County Council funding a package of "sustainable transport measures in Norwich city centre".
The council said it would develop a new "high quality" public transport system, including improvements for bus passengers, cyclists and pedestrians.
'Cheaper ideas'
Norfolk County Council leader Derrick Murphy said the go-ahead to build the new dual carriageway and junction was "a tremendous shot-in-the-arm for the Norfolk economy".
The council's cabinet member for planning and transport, Graham Plant, said work would initially focus on improving the postwick junction before the rest of the bypass was constructed.
The expansion of the junction is expected to be finished by November 2013.
The NNDR has been under discussion for many years and the county council's plans have faced strong objection from environmental and transport groups.
The NNDR has been given an overall completion date of spring 2017.