Cromer Crab Company: Young's to issue redundancy notices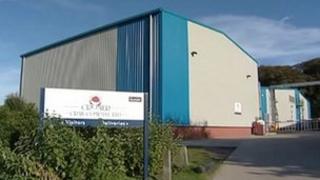 Seventy jobs are to go at the Cromer Crab Company after an ongoing consultation showed current staffing levels make the site "unsustainable".
The north Norfolk company, owned by Young's Seafood, employs about 200 staff. Notice letters will be sent to those affected next week.
Young's chief operating officer Pete Ward said: "This is about ensuring our business for the long-term."
The future of the factory is yet to be decided.
Young's Seafood entered into a 90-day consultation with staff at the plant after it announced a review of manufacturing operations in September.
The company said it would discuss options for the site with staff, union representatives, the local community and customers before plans were finalised.
But the company announced on Thursday that the first round of redundancies will begin next year, with the earliest leaving date being 16 January.
Issue notice
As part of the consultation process, Young's said it had been looking at a number of options for the site.
These included drawing more crab processing into the plant and cost-cutting measures suggested by staff.
But Mr Ward said none of the options would be sustainable with the current number of workers.
"As none of the potential options - including any future sale or, indeed, the alternative model - would secure all the jobs at the Cromer Crab Company we now feel we have to begin to issue notice to some of our staff members at the site," he said.
Mr Ward added that the 90-day consultation period was still continuing.
Greg Hayman, mayor of Cromer, told the BBC: "I am bitterly disappointed that is has come to making job cuts.
"My thoughts are with those individuals and their families who will be getting that terrible news just before Christmas."
Other potential options are still being pursued such as the possibility of an interested buyer for the site and ways to draw more volume into the factory, Mr Ward said.