Holt Lowes heathland protected by Dartmoor ponies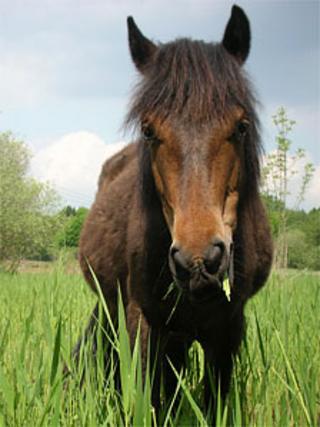 Dartmoor ponies are the latest recruits to a team protecting a Norfolk heathland of international importance.
Eight ponies have joined the Norfolk Wildlife Trust (NWT) habitat management programme to restore land at Holt Lowes.
"They'll eat the birch and gorse that is encroaching on the area," said NWT grazing officer Lucy Wilshaw.
Holt Lowes is home to many rare plants, insects and animals and is a designated Special Area of Conservation.
The animals, from the Dartmoor Pony Heritage Trust (DPHT), have been introduced following the success of similar grazing schemes in other parts of Norfolk. The new ponies bring the NWT grazing stock to 84.
"Pony grazing is not only important in the control of invasive scrub and bracken, but it also creates a varied structure in the vegetation making space for specialised plants such as orchids," said NWT field officer John Milton.
The indigenous Dartmoor pony is officially recognised as an endangered species.
Endangered species
"They are tough little things," said Simon Harrop, secretary of trustees for Holt Lowes.
"The purer bred the tougher they are so I think the Dartmoor Pony Heritage Trust is very keen to spread them around the country to maintain stocks in different places so there is no risk to the breed itself."
Visitors to the 120 acre (49 hectare) site near Holt Country Park are urged not to feed them.
"It's for two reasons - if they are stuffed with carrots and sugar lumps they're not to going to want to eat the rough grasses that we're keen they feed on here - but it's also bad for their health," said Mr Harrop.
"They'll also come to expect food from any visitors to the site and they'll end up hanging around gates and pestering people."
The main goal of the DPHT is to preserve the traditional type of single colour Dartmoor pony, known as the Dartmoor heritage pony, which is the foundation stock for Dartmoor ponies around the world.