Counterfeit designer goods donated to Norfolk charities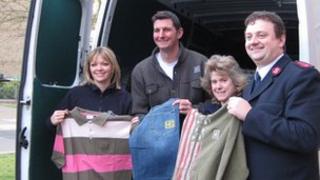 The homeless and vulnerable could be among the best dressed in Norfolk this Christmas as counterfeit designer clothes are given to local charities.
Trading Standards is working with the charity His Church to rebrand and distribute seized goods, rather than destroying them.
"We saw we could give to people who really needed quality new clothing," said co-ordinator Richard Humphrey.
The items will be distributed by the Salvation Army in Great Yarmouth.
"Often we deal with people who have very little clothing," said Lieutenant Rob Symons.
"When people are trying to make themselves look smart, going for interviews, going to see a new landlord - all those things where it's important to make a good impression - these clothes will help people be able to do that."
'Undercurrent economy'
Over the past 12 months Norfolk Trading Standards has seized counterfeit goods worth tens of thousands of pounds.
"There is a thriving undercurrent economy here, which in the present economic climate will get worse," said Ann Jackson, senior officer with Norfolk Trading Standards.
"We're very keen to make sure these goods are used in an appropriate way and we see this as a win-win situation for the good guys - ourselves and the charities that are receiving - and a no-win for those who are trying to sell these goods."
The His Church charity which is responsible for processing the items works with 90% of trading standards authorities across England and Wales.
"In the last five years we've been given £25m of counterfeit clothing," said Mr Humphrey.
"Christmas can often be a time when there's an expectation of people to have a good time, but there are so many people whose circumstances bring a lot of despair.
"It's fantastic to be able to give them clothes of great quality as it also gives them a lot of hope and dignity.
"With the best will in the world, charity clothes are second-hand - in this case they are brand new and in the right size.
"It would be a greater crime to throw the clothes away than it was to make them in the first place."