Norfolk and Norwich Festival unveils art shows for 2012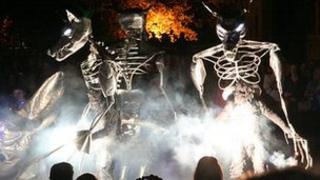 An arts performance reflecting the make-up of Norfolk's population has been unveiled as a highlight of next year's Norfolk and Norwich Festival.
The show, 100% Norfolk, will cast 100 people and combine their personal stories into a performance about Norfolk life in 2012.
Other acts to be revealed include circus performers Compagnie XY at Great Yarmouth's Hippodrome.
The festival will run from 11 to 26 May.
Organisers said the recruits for 100% Norfolk would be representative of the county's population of 862,000, containing factors based on age, gender, location and place of birth.
People interested in taking part can contact the festival office.
'Immensely proud'
Orchestra Spira Mirabilis are also due to perform at next year's contemporary arts and music event.
Erth Theatre's Dinosaur Petting Zoo will be touring school playgrounds and outdoor spaces as part of the children's entertainment.
"We are already immensely proud of the line up for next year and this is just the tip of the iceberg," said artistic director William Gallinsky.
"I want 2012 to be the year when more people than ever discover the Norfolk and Norwich Festival," he added.
The 16-day event, which mostly takes place in Norwich, is the fourth largest city arts and music festival in the UK.
It pulled in its largest ever audience in 2010 of 278,000 people.