Ex-Norwich player Dale Gordon teaches at strike-hit school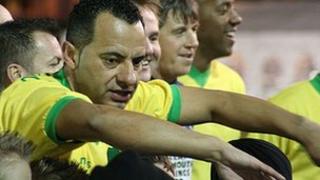 A former Norwich City football player has been taking the sports lessons at a strike-hit school in Norfolk.
Dale Gordon, who played more than 200 times for the Canaries during the 1980s and 1990s, was leading lessons at Ormiston Victory Academy in Norwich.
A local MP, a doctor and a journalist also took over lessons on Wednesday as more than half of the school's teachers walked out on strike.
An NUT official said the school had undermined efforts for change.
Some pupils at the Costessey school also had a workshop with West End actors at the city's Open venue.
Headteacher Rachel de Souza had previously pledged to keep the school open during the public sector strikes.
She claimed attendance at the 850-student academy was almost 100%.
Ms de Souza tweeted her thanks to staff and volunteers who gathered for the morning briefing at the school, saying it was "staying open for the children and working parents".
During the day, Richard Bacon, Conservative MP for South Norfolk, taught pupils politics and spoke about his recent trip to Tanzania.
He said he was a "great admirer" of Ms de Souza for keeping the school open.
"We cannot afford to put students' education in jeopardy, no matter how strongly some teachers may feel about the present dispute," said Mr Bacon.
"Whatever the nature of the disagreement, the students in our schools have no part in it."
Christine Smith, association secretary for the National Union of Teachers (NUT) in Breckland and South Norfolk, said her union did not support Ms de Souza's actions to keep the school open and said it was "undermining" the NUT's efforts for change.
She added the strike was about "the future of the profession and the future for school children" across the UK.