University of East Anglia closes school of music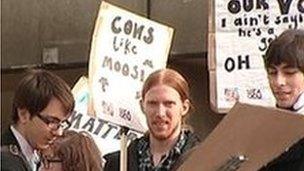 The University of East Anglia (UEA) has announced it will close its School of Music.
The department will not accept any new students and will close after its 149 current students have completed their courses in 2014, the university said.
The decision was made by its council following a review of the school.
A 7,000 signature petition against the closure was collected and about 200 students protested at the UEA on 9 November after the plan was announced.
The UEA had announced in October it was reviewing its degree subjects and proposed the music school be shut down.
It said it would be difficult to expand student numbers at the school and, if it remained open, it would require the university to divert resources from other departments - possibly putting them at risk.
Chairman of the University Council Richard Jewson said: "It is a sad day when a school is to close, but particularly one which is held in such affection, and it gives us no pleasure to make this decision.
"But council members believe that it would be irresponsible to ignore the danger signals highlighted by the review.
"The university cannot afford to continue to subsidise a school where the future prospects are so challenging, and this is the best way we can safeguard and strengthen other humanities subjects."
Vice-Chancellor Professor Edward Acton said: "Our number one priority will be to ensure that current students are not disadvantaged and receive an excellent education."
The UEA's choirs and orchestras will continue, under a director of music, and members of the professional Chamber Orchestra Anglia will be called on to teach and encourage talented students and local schools, the university added.
Practice rooms will be used by the Junior Academy of Music, which will teach school children.
It is understood seven posts could be made cut.
A UEA spokeswoman said: "The university will discuss with individual colleagues their particular situation and, through consultation, will aim to minimise the need for any redundancies.
"In some cases there may be the possibility of transfer to a different department."
Related Internet Links
The BBC is not responsible for the content of external sites.