James Paget Hospital given second CQC warning notice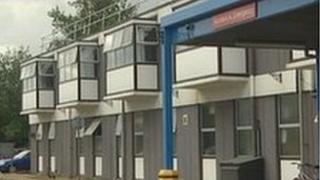 An under-fire hospital serving east Norfolk and north Suffolk has been handed a second formal warning over the quality of its care.
The Care Quality Commission (CQC) said improvements had been made at the James Paget Hospital, in Gorleston, but more work was needed.
Systems put in place to check on patient care required more monitoring.
Chief executive Wendy Slaney said staff were "committed to learning lessons and addressing areas for improvement".
The hospital was issued with its first formal warning in September after inspectors found patients' nutritional needs were not being met.
The failings were identified despite concerns being raised earlier as part of the CQC's dignity and nutrition review.
The latest checks, in October, found improvements had been made in meeting the nutritional needs of patients.
But failings in the monitoring of new systems were highlighted, prompting the second warning notice.
'Team effort'
Frances Carey, the CQC's regional director, said: "We were pleased to see the trust had taken action regarding our previous warning and put measures in place to help patients receive the food and drink they required.
"However, we were once again disappointed because we observed that these new systems were not being consistently carried out.
"This meant that patients were still not always receiving the help they needed when eating and drinking.
"It is a basic requirement that vulnerable people who are trying to recover in hospitals receive the assistance they need to get the correct nutrition.
"Systems may be in place to achieve this at James Paget Hospital, but these can fail if they are not being effectively monitored or assessed to ensure they work. This is why we have issued a warning notice to the trust."
Mrs Slaney was pleased the latest inspection had recognised improvements made around nutrition.
She said: "It has been a team effort in getting us to this position and I am grateful to all our staff for their support through what has been a difficult period.
"We fully recognise the importance of accurate documentation and robust monitoring systems and where there are failings we are committed to learning lessons and addressing areas for improvement."
The CQC said further inspections would take place and warned legal action could result if the required standards were not met.
Peter Aldous, Conservative MP for Waveney, said: "It is encouraging that the hard work of management and staff around nutrition has led to a significant improvement in the care provided to elderly patients.
"The CQC has raised other concerns and I have every faith in the determination of all at the hospital to move forward to resolve the problems that have been identified."