RAF Marham Group Captain's 'high-octane' time in charge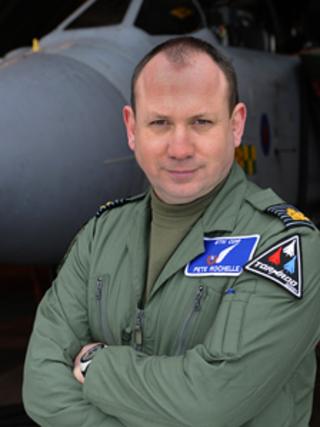 RAF Marham's departing commander said he is "hugely proud" of his airmen who have been involved in a "high-octane" last eight months in Norfolk.
Gp Capt Peter Rochelle will hand over the reins of airbase operations to David Cooper on Monday.
In two years he has overseen Tornado missions in Afghanistan and Libya and been under the spotlight during the government's defence review.
Gp Capt Rochelle said the support of colleagues had been overwhelming.
"I'm humbled by the ability of [the airmen] to dig deeper and dig deeper again and then sustain that level of effort, while coping with normal life," he said.
"I'm massively impressed by them; humbled by the ability of them to deliver and I'm hugely proud of every single one of them.
"It's been a high-octane eight months quite frankly. I'm slightly tired now."
Among the successes, there have been turbulent times at RAF Marham during Gp Capt Rochelle's two-year spell.
'Significant moment'
At the end of October its Tornadoes headed back to Norfolk from their 3,000-mile missions to Libya protecting civilians from Muammar Gaddafi's armed supporters.
Jets spent seven months based in southern Italy and thousands of hours in the air as part of Nato's defence regime.
Gp Capt Rochelle said he could sense a "significant moment coming" as pressure on Libya's late dictator intensified and the call to action was given.
"The most important thing for me at the time was that when we were called upon to act, we were going to deliver high end results," he said.
Just three months earlier the whole future of the base was under threat as the government outlined its defence review.
On the table was either the closure of Marham or RAF Lossiemouth in Moray, as the government looked to pin its Tornadoes to a single base.
This sparked weeks of protests and high-profile campaigns in both Scotland and Norfolk.
In the event, both bases remained open, with Marham keeping its fighter jets and being the preferred destination for Lossiemouth's planes.
The latter looks set to take on RAF Leuchars' Typhoons from 2013.
Marham's XIII Squadron however was disbanded, which its jets marked with a flyover and cheers from hundreds of onlookers in west Norfolk.
'Mood of value'
Gp Capt Rochelle said he was "surprised" at the level of support his base received during the defence review's consultation period, which had the backing of local MPs and media.
"It was fantastic - there's no doubt about it," he said.
"There was a mood of value and I think that came across.
"I was surprised and incredibly pleased by the support of many East Anglian officials that were working with us and MPs, down to everybody on the street, particularly while we were out on operations at the same time."
While squadrons remain in Afghanistan, the new Gp Capt, David Cooper, said he has a big role to fill, moving up to Marham from RAF headquarters in High Wycombe.
"It's slightly daunting in some respects, but what a challenge to face," he said.
"For the last year I've been running the staff that's been supporting Marham and Lossiemouth, so almost at first-hand I've seen the successes they've had.
"I'm absolutely delighted now to be here, it is going to be a very special tour indeed."