Norfolk hospitals' survey finds waiting times concern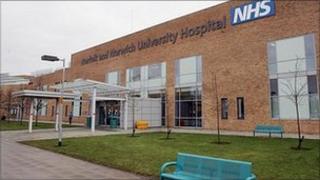 The largest one-off patient survey ever to be conducted at two Norfolk hospitals has found waiting times to be people's greatest concern.
The views of 2,200 patients were collected during a week in September at the Norfolk and Norwich University Hospital and Cromer Hospital.
The survey revealed patients' most negative comments surrounded time spent waiting in clinics or to be discharged.
The most positive comments were made about staff attitude and performance.
About 91% of patients indicated they were satisfied or very satisfied with their care, according to the Norfolk and Norwich University Hospitals NHS Foundation Trust.
Since 2008, the two hospitals have surveyed about 70,000 patients' experiences.
Anna Dugdale, chief executive of the hospitals' trust, said the survey confirmed the vast majority of patients had a "very good experience" at the hospitals.
"We designed this survey to help us identify areas in which we could improve the care we provide," she said.
"There are no grounds for complacency. We care for in excess of 700,000 people per year and if 1% of our patients have a poor experience that amounts to 7,000 people.
"We are delighted that so many patients complimented the attitude and performance of our staff."
The survey was conducted by the hospitals' trust in partnership with government outsourcing group Serco.
The Norfolk and Norwich University Hospital celebrated its 10th anniversary in 2011 after moving premises from St Stephens Road in Norwich.
A new £15m hospital is expected to open in Cromer in spring 2012.