Fire-hit food firm Broadland Hams opens temporary base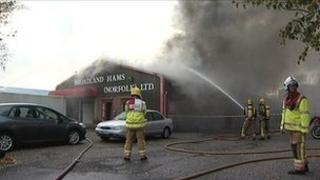 A food factory in Norfolk that was destroyed by fire last week is up and running again in a temporary home.
Broadland Hams, on the Sweet Briar Industrial Estate, Norwich, was engulfed by a blaze last Wednesday, causing staff to be evacuated.
The company has since found a new home in Little Melton, south of the city, and has started processing again to fulfil Christmas orders.
Norfolk Fire and Rescue Service found a ham smoker to be the cause of the fire.
Roads around the fire were closed and people in surrounding buildings were also evacuated as more than 50 firefighters tackled the blaze.
One person was treated for the effects of breathing in smoke.
Edward Porter, a director of Broadland Hams, said the company had kept on all its 25 staff and was processing again using rented machinery.
He added that a computer had been rescued from the fire that contained vital customer orders, meaning much of the company's work could be restarted.
The firm said its insurance covered a total rebuild of the factory and it would assess its options for a permanent home next year.