Gorleston car park protesters force council back down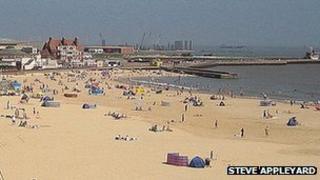 Plans to expand a seaside car park in Norfolk have been thrown out by a council after objections by residents.
Great Yarmouth Borough Council wanted to extend Gorleston's lower esplanade car park after concerns there were not enough spaces at peak season.
Hundreds of people protested on the site, during October and November, against the planning application.
They had concerns it would spoil the look of the seafront and be dangerous for children using a nearby play area.
The car park is close to a paddling pool and model yacht pond.
Protester Brenda Fuller said it was a "victory for the people of Gorleston" and everyone who enjoys the "lovely Victorian seafront".
Councillor Charles Reynolds, who devised the application, said he was "disappointed" with the objection, feeling there could be a "lot of money lost to the area in such difficult times".
The council is due to meet owners of a privately-owned car park on the pier next week to see if it could be reopened.