Child artist Kieron Williamson 'to stay in Norfolk'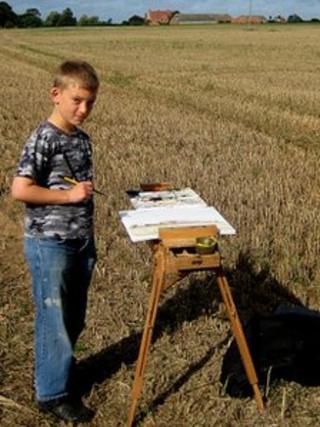 The family of child art prodigy Kieron Williamson have decided they will stay in Norfolk, despite offers from around the world to exhibit his work.
Mother Michelle revealed the news after the nine-year-old's recent art sale sold out in 10 minutes making £105,000.
Mrs Williamson said Kieron had received offers to exhibit in Australia, Germany, Hong Kong and the US.
But she said the family would be "crazy" to move away from local fans.
On Friday morning, 12 new landscapes from the artist nicknamed "mini Monet" sold within minutes to queuing supporters at Picturecraft Gallery in Holt, north Norfolk.
The new pictures, on which Kieron painted foreign scenes as well as familiar Norfolk ones, fetched between £1,250 and £15,595 each, mimicking the success that catapulted him to worldwide fame in July 2010.
After last year's exhibition, Mrs Williamson said the family wanted to move to Cornwall.
But now, following the continued worldwide interest, she said any strategy to "get away from it all" would be fruitless.
The family plan to buy another property near Ludham, on the Norfolk Broads, where they settled in the summer.
Travel abroad
Mrs Williamson said the support of family, friends and local supporters remained the most important part in Kieron's blossoming career.
"We're really pleased that people are still coming to see his work," she said.
"The most important thing is the support we've had on a local level."
Mrs Williamson said in the future her son would want to travel abroad to paint - but the timing needed to be right.
"I fully expect him to want to travel the world and he's going to want to paint it," she said.
"He would love to go abroad and paint Italy and Venice and Paris and other parts of France. He doesn't see his age as any boundary and he can't wait to do that.
"We keep reminding him that he's got the rest of his life to fit all this stuff in, but we're just trying to support him the best way we can and protect him as much as we can.
"He's a very high-profile character at the moment, which goes against all your maternal instincts. It's a difficult balance to achieve."
Mrs Williamson added that preparations for a "retrospective" exhibition at next year's Holt Festival in July were well under way, which would also see the sale of new paintings.
People can view Kieron Williamson's recently sold work at Picturecraft Gallery in Holt until 23 November.