Going alone on King's Lynn incinerator 'may be cheaper'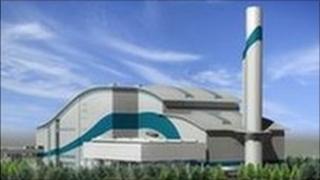 A controversial £500m incinerator project in West Norfolk may be going ahead without government backing.
Norfolk County Council said it would continue with plans for the energy from waste incinerator in Kings Lynn.
The project was rejected by 92% of people who voted in a borough council poll with a turnout of 61%.
Environment minister Caroline Spelman last week decided to hold back £169m of promised government funding until more evidence of local support was produced.
The Environment Department wrote to the county council last week and asked for more evidence of public support.
The letter also offered an opportunity for officials to discuss where new support might come from.
Bill Borrett, cabinet member for waste, said the council could still try and build the incinerator without financial support.
"A lot of work is going on at the moment.
"Even at this late stage it looks like it would still be cheaper to build the plant without the private finance initiative credit than to abandon the whole project after five years hard work."
Industry support for council
More than 92% of those who took part in the poll by West Norfolk Borough Council earlier this year voted against the proposal .
The question was: "Do you support the construction of a mass burn municipal waste incinerator on the Willows Business Park at Saddlebow, King's Lynn?"
Total votes cast were 70,763 out of 115,382 eligible residents and 65,516 said "No" to the scheme.
Some 5,173 people supported the incinerator (7.32% of the valid vote) and there were 74 spoilt papers.
The county council has also won support for its stand on the project from the Environmental Services Association (ESA) who speak for the UK's waste management industry.
Electricity produced
This organisation has reacted to the original letter announcing the decision to withhold PFI credits.
ESA's director of policy, Matthew Farrow, said: "Offering discussions between Defra officials and the council concerned will not reassure the wider waste management industry who remain deeply concerned.
"Caroline Spelman's decision to withhold credits despite the government's previous support for the project will make it harder, not easier, for local authorities and waste management companies to deliver environmentally and economically sound solutions to residual waste management that meet the government's own objectives for waste policy."
Norfolk County Council said the facility would process about 260,000 tonnes of rubbish every year.
It added that it would also save £8m a year that would otherwise be spent sending rubbish to landfill sites.
The new facility would burn the waste and produce electricity.