Poppy seller finishes 90-hour sale challenge for legion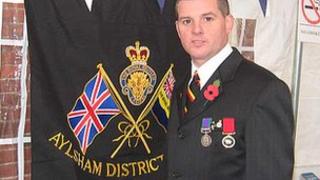 A Royal British Legion member from Norfolk completed a 90-hour poppy-selling marathon on Armistice Day, raising £3,000 for the charity.
Paul McGrath, a member of the legion's Aylsham branch, started selling from the town's market place on Monday.
The former Royal Anglian, 39, finished his stint just before the town's 11:00 GMT memorial service.
Mr McGrath undertook the feat, without sleep, to celebrate the Aylsham group's 90th anniversary.
His only breaks during the week were to take a shower.
The legion's head office said it was the first time they had known anyone to achieve Mr McGrath's task.
Aylsham secretary Philip Burr said Mr McGrath had done a "fantastic job" and the legion was very proud of him.
Round of applause
Mr Burr thanked the local community and fellow legion members who helped him in his challenge.
He said people helped Mr McGrath by providing food and working in shifts alongside him, to keep an eye on his wellbeing.
"Lots of people rallied around to help him. When he finished he still looked really good," Mr Burr said.
After the Armistice Day service a round of applause was given to congratulate Mr McGrath on completing his challenge.
Mr McGrath, from Aylsham, is one of the newest members of the town's section, having previously served in Bosnia and Northern Ireland for the army's Royal Anglian Regiment.