Norwich Research Park Enterprise Centre to create jobs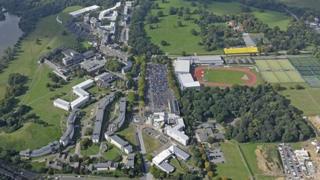 A £10.5m centre to help businesses reduce their carbon footprint could create more than 250 jobs, a Norfolk university has announced.
The Enterprise Centre, to be built at Norwich Research Park, was given the go-ahead after it secured £6m funding from the European Regional Development Fund.
Building work is set to start on the training centre, near the University of East Anglia's Sportspark, in 2013.
It is set to open the following year.
Project leader Dr John French said the centre would help small and medium-sized businesses develop environmentally-friendly buildings and provide advice on reducing carbon output.
With the construction of the centre, the UEA hopes it will have the lowest carbon footprint facility at any university in the UK.
"At a time when economic stimuli are much needed, UEA is delighted to be leading a project that will deliver business support to over 500 businesses and create over 250 jobs in the immediate area," said the university's vice-chancellor Professor Edward Acton.
"Another exciting feature will give students the opportunity to learn entrepreneurial skills that could enhance their career prospects, develop enterprise ideas and launch their own companies."
Along with European funding, the project will have financial support from the UEA and the Biotechnology and Biological Sciences Research Council (BBSRC).