Child artist Kieron Williamson to hold new exhibition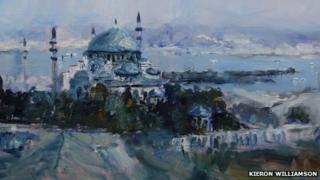 A child artist whose paintings last year fetched £150,000 at a gallery in Norfolk has unveiled a new art sale and exhibition.
Nine-year-old Kieron Williamson, dubbed "Mini Monet", will exhibit 12 new landscapes at Picturecraft Gallery in Holt, from 11 to 23 November.
The oil, watercolour and pastel originals are expected to fetch between £1,000 and £15,500 each.
He has already earned enough from art to buy a house on the Norfolk Broads.
The latest paintings include scenes from Kieron's home county and abroad.
Kieron's last exhibition at the Norfolk gallery in 2010 caused a stir across the art world, with his collection of works selling out in 30 minutes.
Fans camped outside the gallery days before the sale, with people from as far away as Arizona in the US snapping up his paintings.
His last exhibition was at the Delamore Arts Festival in Devon in May, where his works sold out before the event began.
'Massive progress'
"It's lovely to see a nine-year-old boy keeping traditional landscape painting alive," said Kieron's mother, Michelle.
"The new paintings reflect Kieron's continuing passion for capturing Norfolk landscapes, as well as dipping his toes into foreign waters.
"We see massive progress in Kieron's work every three months or so and so you can't help but celebrate and share this progress with family, friends and the public."
While giving some of his earnings to charity, Kieron's parents have so far invested much of his fortune in property.
He bought his first house in Ludham on the Norfolk Broads, where the famous watercolour and oil-based artist Edward Seago once lived, in March.
Plans are still in place for the family to move to Cornwall in the near future, hoping it will further develop the young artist's talent.
Mrs Williamson also confirmed a retrospective exhibition and sale has been organised at Picturecraft Gallery for next year's Holt Festival, to coincide with Kieron's 10th birthday.