James Paget Hospital allegation 'unfounded'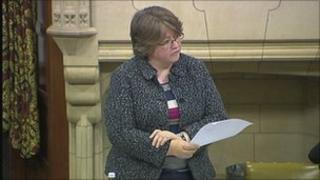 A failing Norfolk hospital has said an allegation that it could be another Stafford Hospital - where a high number of patients died - is unfounded.
A group of GPs made the comparison in a letter about their concerns over the standard of care in the James Paget Hospital (JPH) in Gorleston.
The JPH said such reports had had a "staggering" effect on staff morale.
It added that feedback from patients, governors and visitors indicated improvements were being experienced.
The letter from "concerned GPs" was read by MP Therese Coffey in the Westminster Hall Committee Room on Thursday, and prompted her to call for the hospital's chairman John Hemming to stand down.
'Please act quickly'
Problems with nutrition were uncovered at the JPH earlier this year during an inspection of care for the elderly by the Care Quality Commission (CQC).
When the issues had not been resolved during a return visit in September, the hospital was issued with a warning notice.
If swift improvements are not made it could face sanctions including prosecution or closure of services.
The letter said: "We have lost confidence in the ability of its leadership to correct its failings.
"Please act quickly before we have another Mid Staffs on our hands," it added, referring to Stafford Hospital.
'Distressed by reports'
The Healthcare Commission found hundreds more people died than would be expected between 2005 and 2008, due to Stafford's "appalling" emergency care.
The James Paget, which serves east Norfolk and north Suffolk, said on Thursday it would not be considering its leadership at this time.
On Friday, it released a further statement, saying it recognised a "heightened degree of public concern" and that it wanted to reassure patients about improvements in respect of dignity, privacy and nutrition.
Hugh Sturzaker, deputy chairman of governors, said: "I have been distressed to see the reports in the press, TV and in Parliament which have led to a staggering effect on staff morale and which must be very upsetting for patients, their carers and the local population.
"I am concerned that an anonymous letter from some GPs suggests that we might be heading towards the problems experienced by Mid Staffordshire."
"Such an allegation is unfounded.
"While not being complacent, I would like to reassure patients that they come first in this hospital."