Great Yarmouth 'body snatcher' marked by blue plaque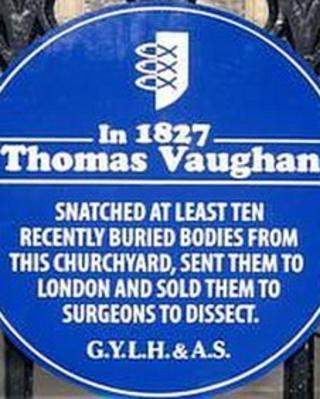 A blue plaque has been unveiled in a Norfolk town to remember a person whose illegal body snatching was said to have aided advances in biology.
The memorial at St Nicholas Church, Great Yarmouth, marks the life of Thomas Vaughan, who exhumed at least 10 bodies from the graveyard in 1827.
The culprit, employed by the vicar's son, loaded the dead bodies into crates and then on to trains.
Large rewards were given by London surgeons in exchange for the bodies.
Historians said more than 20 bodies were exhumed from the graveyard in the same year.
Andrew Fakes, president of the Great Yarmouth Local History and Archaeological Society that created the plaque, said the corpses had been in high demand for use as test subjects on medical procedures.
"Body snatching refers to the profitable trade during the 19th Century of digging-up the dead from their graves and selling the bodies to medical schools," he said.
'Absolutely horrendous'
"The only legal supply of human corpses was that of the bodies of criminals executed by the judicial process, but this provided insufficient supply for the expanding schools."
The son of the vicar at St Nicholas, Sir Astley Cooper, who was also the renowned surgeon to Queen Victoria, employed local body snatchers to undertake the gruesome work at Great Yarmouth.
Vaughan, his most prolific snatcher, was eventually caught and jailed for his crimes.
Before sending the corpses on to London he concealed them in sawdust and held them in houses on the row where he lived.
He was paid 10 to 12 guineas for each body he transported.
Dr Paul Davies, committee member of St Nicholas' Church Preservation Trust, said at the time the reaction to the news was "absolutely horrendous", but he said without the bodies medicine "wouldn't have progressed so fast".
"Until quite late in the 19th Century people were still relying on the medical theories of the Romans - for nearly 2,000 years," said Dr Davies.
St Nicolas' church curate Reverend James Stewart, who unveiled the plaque on Monday, believed it was important that despite the grisly crimes that were committed, the activities in the churchyard should be marked for their historical importance.
"Necessary evil is a very dangerous thing to be talking about, but these things providentially took place because science moved on as a result," he said.
"But we also have to think of those that were disturbed from their immortal sleep, that had not expected they would be taken at cover of night and be experimented on."