Cromer shellfish plant petition aims to save jobs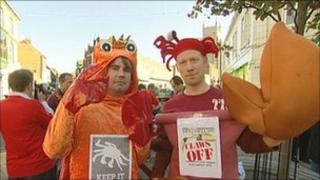 Supporters of workers at a Norfolk shellfish firm under threat of closure have collected a petition of 5,000 signatures in a fight to keep it open.
Youngs, who own the Cromer Crab Factory employing 230 people in the town, are reviewing the viability of the site.
The firm said one option was to move some operations to Grimsby or Scotland if the plant shuts.
North Norfolk MP Norman Lamb said he was meeting Youngs managers to apply pressure to keep the jobs at Cromer.
The workers' supporters were in Cromer town centre on Saturday collecting more signatures for their petition asking the company to keep the plant open.
Some people were dressed as crabs and two large models from the Crab and Lobster Festival were on display.
The company said it would discuss options for the site with staff, union representatives, the local community and customers before plans were finalised.
Young's Seafood Limited employs about 3,200 people across 13 UK sites.
The review of the shellfish manufacturing operations followed the merger of Young's, Findus UK and Ireland, and the Seafood Company as one business.
Celebrities with links to Norfolk have signed the petition and they include Norwich City FC director Delia Smith, Stephen Fry and Alan Titchmarsh as well as government minister and local MP Norman Lamb.