Cancer fighting broccoli created by Norwich scientists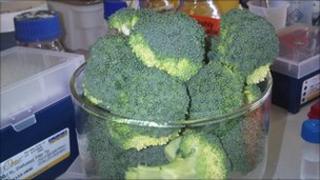 A variety of broccoli developed in Norfolk which contains high levels of a chemical thought to fight heart disease and some cancers, is going on sale.
Beneforte contains three times the level of glucoraphanin than standard varieties.
The chemical is thought to help in reducing inflammation and inhibiting cell division associated with some early-stage cancers.
The work was carried out at the Institute of Food Research in Norwich.
Scientists began the project in 1983 and achieved the result by cross-breeding a wild broccoli with higher levels of glucoraphanin with existing strains.
The chemical is converted into sulphoraphane which is carried round the body in the blood and may also help to boost the body's antioxidants.
Professor Richard Mithen from the Institute said: "Our research has given new insights into the role of broccoli and other similar vegetables in promoting health, and has shown how this understanding can lead to the development of potentially more nutritious varieties of our familiar vegetables."