Ex-Campbell's site redevelopment begins in King's Lynn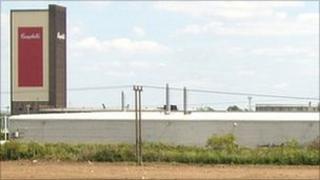 Work to redevelop the site of a former food firm in Norfolk into a business complex has begun.
The former Campbell's factory in King's Lynn is being demolished to create a new Tesco Extra store at Hardwick, to replace the existing building.
Other plans include a hotel, restaurant, public house and car showroom on the site.
It is thought the £40m Campbell's Meadow project could bring up to 1,000 jobs to the area.
There is currently no set completion date for the work.
Removing asbestos
Tesco's plan for the site was approved by councillors in west Norfolk in November after initial plans were rejected.
Sainsbury's are also developing a neighbouring store at Hardwick on a separate site.
Early work to demolish the Campbell's factory includes removing asbestos from old offices.
There will also be an archaeological search conducted on the site.
The former factory tower is set to be knocked down in November.
Campbell's former owners Premier Foods closed the King's Lynn factory in 2007 and moved production to other sites.
It was the American firm's first UK base when it opened in the 1950s, employing thousands of local workers.
Plans to get the tower listed by a local civic society failed but an in-depth photographic archive has been created.