Paralympic hopeful Amy Conroy given training boost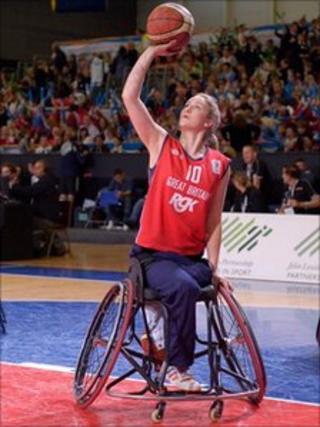 A Norwich athlete who hopes to compete in the 2012 Paralympics has been given free use of a venue's sports courts.
Amy Conroy is a member of Britain's 12-strong squad playing in the European Wheelchair Basketball Championships in Israel this weekend.
The 18-year-old can now train for free at the Sportspark, on the University of East Anglia campus in Norwich, as she gears up her preparations for London.
Tickets for the Paralympics go on sale from Friday.
The Paralympics follow the Olympic Games and run from 29 August to 9 September next year.
Amy started playing wheelchair basketball in 2007 after losing part of her left leg to osteosarcoma.
She said: "I've always been sporty, so hearing at the age of 13 I'd lose my leg was hard.
"But life's now great, I have a false leg and have realised anything is possible if you work hard for it, plus I've totally fallen in love with this sport.
"Without the help of Sportspark it would have been so hard training every day, so I really appreciate this. It will make a huge difference."
Amy recently helped Great Britain to win gold in the 2011 Paralympic World Cup and bronze in the under 25s World Championships.
Eight deaf pupils from the City of Norwich school have also been working hard to mark International Paralympic Day in Norwich on Thursday.
Their Olympic-inspired performance, Dance Aloud, was due to be shown on the city's Big Screen at Chapelfield Shopping Centre.