'Do Not Resuscitate' tattooed on Norfolk pensioner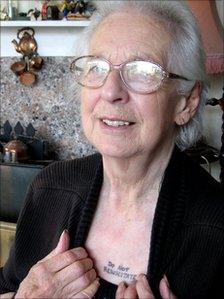 An 81-year-old woman from Norfolk has had "Do Not Resuscitate" tattooed across her chest in case she falls ill and attempts are made to revive her.
Joy Tomkins had the message tattooed, along with "P.T.O." and an arrow on her back, earlier this year.
The former magazine company secretary said she could not bear to "make beds and wash-up for another 20 years".
Despite having a living will for about 30 years, she said the tattoo meant there would be "no excuse" for error.
"The tattoo is immediate... no excuse for not knowing what I thought," she said.
The grandmother, who is diabetic but said she was not seriously ill, said she got the idea from a retired nurse, who did something similar in 2003.
She said her willingness to not be resuscitated would "save money" for the NHS.
Mrs Tomkins, who went to a tattoo parlour to get her message done, said she was happy with life but stated she would be "just as happy" not to wake up in the morning.
She added she was determined to have the final say if she falls seriously ill.
"If I'm found lying about and can't say something, I want [medics] to accept that," she said.
"I'm 81 and don't need any more use. What do you think I'm going to do with the frightful thought of getting to 100? I hate it.
"My mother-in-law lived to be 106 and in the last six years of her life she'd have been much better dead. She was miserable."
The widow said that at the age of 81 she did not have the "stamina" to enjoy all of her hobbies any more, such as playing the piano and gardening.
"I've had 80 good, interesting years of marriage and children and grandchildren and plenty of friends," she said.
"I'm quite happy if I wake up in the morning, but if I don't I'm just as happy."
Her two children, who between them have six grandchildren, are aware of their mother's views, but Mrs Tomkins said, "they won't argue with me".
Dr Anna Smajdor, a lecturer in medical ethics at the University of East Anglia's Medical School, said she could see that Mrs Tomkins wanted to send a "very clear message" and "cover all bases" with her tattoo.
However, Dr Smajdor said tattoos were not effective "as a sole way of ensuring wishes are fulfilled" as they would "not be legally binding".
Related Internet Links
The BBC is not responsible for the content of external sites.