Work on fast broadband across Norfolk under way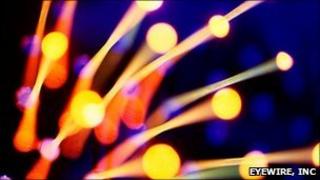 Preparatory work has begun on creating access to new fast broadband services across Norfolk by March 2015.
The government awarded £15m for the project in May and county council officers have been searching for a telecommunications contractor for it.
The chosen partner is expected to make a significant financial contribution to bring the total investment to £60m.
The contract is to be awarded by September 2012 and infrastructure work is expected to begin in January 2013.
By March 2015 all properties in Norfolk will be expected to be able to receive broadband speeds of 2Mb/s as a minimum and many parts of the county will be able to receive "super fast" broadband (a minimum of 30Mb/s) for the first time.
'Huge undertaking'
Ann Steward, the council's cabinet member for economic development, said: "People in our county, particularly but not exclusively in rural areas, are being disadvantaged by no or slow broadband access.
"This has ramifications for our economy but also for people's lifestyles, including their educational, social and financial choices and opportunities.
"Home learning and working, staying in touch with people via social networking sites and online banking and shopping are options that many of us take for granted now and yet these options are not open to some people in Norfolk.
"It is a huge undertaking to connect every property in the county to the broadband network and ensure everyone gets a minimum level of service, and just the process to award the contract itself is a fairly lengthy one by law."
She added "it was fantastic" that in 18th months' time the first homes and businesses would be receiving better broadband as a result of the project.