Blur drummer Dave Rowntree to talk at music festival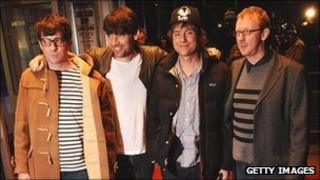 Dave Rowntree, the drummer with Blur, is to be a guest speaker at a Norwich music festival.
Sound and Vision 2011 is a three-day event featuring bands, videos and conferences with industry insiders from around the world.
As well as hearing the latest music, budding rock stars will be able to get tips from experts about how to launch their careers.
The festival takes place from 29 September to 1 October.
Sound and Vision was launched in 2010 by BBC Norfolk Introducing presenter Adrian Cooke and attracted more than 2,500 music fans.
This year's event will feature music from local acts Fever Fever and Rory McVicar as well as musicians who have travelled from as far as America to take part in the conferences.
Representatives from music publications such as NME and Word and record label executives will be on hand to cover topics including how to get your music used in films, promoting your band and finding income streams.
Big names
Despite 2011 being only the second time the festival has run, Mr Cooke said that they had no problem attracting big names to the city.
"A lot of people seemed to have heard of the event and heard good things about it after last year and so were very keen to get involved.
"We actually had far more people wanting to get involved from the US than we are able to accommodate."
This year's festival has a larger programme of events including an extra day of conferences and the BBC Music Video Festival and Mr Cooke hopes the three days will help anybody hoping to follow a career in music.
"Bands here are very creative and resourceful but they're not always so good at seeking out new market opportunities or developing audiences beyond the county borders.
"The conference programme at Sound and Vision will offer very practical advice and information that is invaluable to musicians at any stage of their career."