News of the World private eye 'followed Charles Clarke'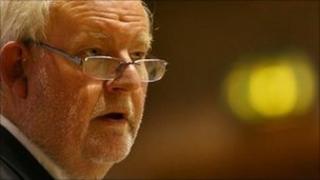 The News of the World hired a private investigator to follow former MP Charles Clarke when he was home secretary, the BBC has been told.
Mr Clarke, who represented Norwich South until he lost the seat in last year's General Election, was tracked for hundreds of miles in London and Norfolk in 2005.
He was watched during a number of engagements including a visit to a police station and a hospital in Norfolk.
Mr Clarke, who was also followed by agency staff and photographers, said he would not comment on the matter.
No story was generated from the private eye's activities and the newspaper moved its attention elsewhere.
Earlier this month Mr Clarke's wife Carol Pearson wrote an article for the Eastern Daily Press in Norfolk welcoming the demise of the News of the World, stating: "Some are mourning the departure of the News of the World. Some have shed a tear. Not me."
Last week the BBC was told how Labour MP Tom Watson was followed by a private investigator hired by the News of the World while he attended his party's conference in Brighton in 2009.
No story was written in connection with Mr Watson, who led the uncovering of the phone hacking scandal. He has declined to comment.
There is no suggestion the cases involved phone hacking.
Labour MP Chris Bryant said he had experienced being followed twice by people not thought to be linked to newspapers.
"I just think everybody should have freedom to get on with their lives without harassment and intimidation and the danger of any private investigator following you is that it would tip over into that," he said.
"It could all too easily feel very intimidating, especially if you were a woman."
The source, who worked for the News of the World, told the BBC that so many politicians were being followed "it was unbelievable".
A spokeswoman from the News of the World's parent company News International said: "I don't think we'll be commenting on this story."