London 2012: Norfolk venues 'hopeful' despite no teams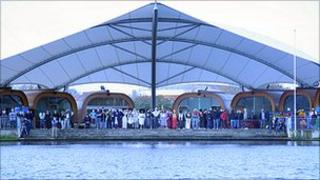 Norfolk's training venues for London 2012 are remaining optimistic of sealing teams before the start of the Olympics, despite attracting no offers.
The county has five venues outlined in the official pre-Games training camp guide that athletes can use before the start of the Games on 27 July 2012.
The county council said that even if teams did not train in Norfolk, it will not affect tourism to the area.
King's Lynn however will host a British team before the Paralympics.
"Selection for inclusion is rigorous and our venues are clearly of a high standard," said Mari Martin, head of arts and events at Norfolk County Council.
"We have worked closely with the venues to market their facilities.
"We believe that if we are not successful in attracting an Olympic team to train in Norfolk it will not affect tourism," she added.
'Best in country'
The five venues outlined as official London 2012 training facilities are based in Norwich, King's Lynn, Great Yarmouth and Cromer.
Despite covering a range of sports, there is worry that the county's facilities have been overlooked and now stand little chance of being selected at such late notice.
Danny Holdom, club manager at Cromer Lawn Tennis and Squash Association, feels the main problem has been down to Norfolk's position on the UK map.
"We'd really like a team to come here. Obviously the sticking point is the location," he said.
"The reason we went in is because of the facilities - they're such terrific grass courts and some of the best in the country.
"Maybe if we were 50 or 60 miles nearer to London these nations would be clambering to play here," he added.
Although thrilled to be hosting the GB Wheelchair Rugby Team before the Paralympics, the senior leisure manager for Lynnsport in King's Lynn feels almost everything has been done to attract Olympic competitors to the town.
"It's probably getting late in the day now but we haven't given up hope," said Simon McKenna.
"Sometimes it's about getting that contact and sometimes that can be circumstances.
"We are moving forward - we have lots of events and activities planned from now to the start of the Games and we're all really looking forward to it," he added.
Great Yarmouth Borough Council is still hot on the hunt for a beach volleyball team to train on the coast, which could be made possible due to the sport's late qualification process.
"The qualification schedule for beach volleyball is really tight, with some teams not knowing whether they will have a place in the Games until three weeks before the Olympics starts," said the council's culture, leisure and sport manager Marie Hartley.
"By sending out invitation letters now, encouraging teams to look at Great Yarmouth and provisionally book their place, we can ensure our facilities are in top condition for the athletes' arrival in just under a year," she added.
Even if athletes decide not to train in Norfolk, Mari Martin at the county council believes the local economy could still benefit greatly from tourism.
"If we continue to showcase that we have beautiful open skies, sandy beaches, the Broads and all that Norfolk has to offer, then we are a very attractive and affordable alternative to London," said Mari Martin, head of arts and events at Norfolk County Council.
"The key message is that you can enjoy the best of both worlds - combine a holiday here with a trip to the Games."