Roman remains found on Watton building site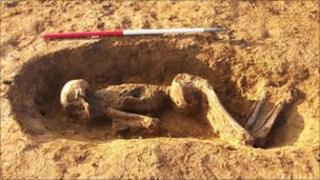 A man's skeleton which is believed to date back to Roman times has been discovered in Norfolk.
The remains were uncovered on a building site at Watton, which once housed the RAF radar station.
The body was found crouched on its right side and is thought to have been buried around AD43 to 410.
Tests have revealed the man had osteoarthritis of the spine and he was found in his grave with a small shard of pottery.
The finds were made during excavations as part of the preparatory work by Bennett Homes for a new housing development.
The discovery of the piece of ceramic has helped experts to pinpoint the age of the human remains.
Other interesting artefacts unearthed at the site include six Bronze Age axes, a Bronze Age round barrow with a cremation urn and five more cremation burials.
Experts are now working to confirm the date of the various burials and may have to use carbon dating to accurately establish the skeleton's age.
It has been sent to a Southampton laboratory for further testing.