Caistor St Edmund Roman town bought by Norfolk trust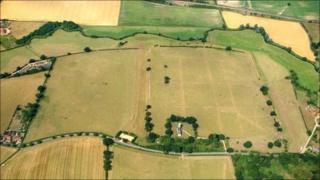 The future of an important Roman site in Norfolk has been secured following a £374,000 grant given to the Norfolk Archaeological Trust (NAT).
The money was provided for the trust from National Heritage, English Heritage and South Norfolk Council.
The funds will buy the west side of the buried town at Caistor St Edmund, south Norwich, after farming and illegal metal detecting caused damage.
"This is wonderful news," said Carole Souter from National Heritage.
"Venta Icenorum offers a rare and exciting insight into our Roman and Anglo-Saxon past," she added.
Venta Icenorum, the once Roman capital of Norfolk and Suffolk, is one of only three remaining buried sites in Britain that remains fully intact because it has not been built on.
Peter Wade-Martins, director of the Norfolk Archaeological Trust, said: "I am absolutely delighted that the trust has managed to acquire a vitally important part of the Roman town."
Dr Will Fletcher, an English Heritage inspector of ancient monuments for Norfolk, said: "We recognise this is a once in a lifetime opportunity to safeguard an important part of our nation's heritage for the future.
"We believe this site is at significant risk and our grant will go towards protecting this valuable Roman town."
Much of the site is accessible to the public.