Coastal erosion homes scheme scrapped in north Norfolk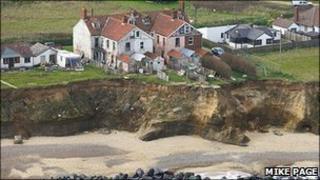 A scheme to buy up homes predicted to fall into the sea within 15 to 40 years has been scrapped by North Norfolk District Council (NNDC).
A "buy to lease" proposition, where people could have sold their homes and rented them back, was investigated by property consultants Bruton Knowles.
The council said the findings showed it could not carry the burden of buying homes not immediately at risk.
"Economically it did not stack up," said Angie Fitch-Tillett from NNDC.
"It would put the council's finances and reputation at risk for backing a scheme that was doubtful.
'Buy to demolish'
"It's a difficult situation with 'buy to lease'. If you asked for a 25-year mortgage and your property has only a 20-year lifespan you're not going to get a mortgage," said Councillor Fitch-Tillett.
Homes at immediate threat from the sea would still be covered by the council's "buy to demolish" scheme and people living in any uninhabitable properties would be offered social housing.
Coastal campaigner Malcolm Kerby, who contributed to NNDC's Pathfinder project to tackle erosion issues in the county, was content with the decision as he had "never been a fan of 'buy to lease'," and preferred options to underwrite properties completely.