Norwich City FC orders brewer to withdraw On the Ball ale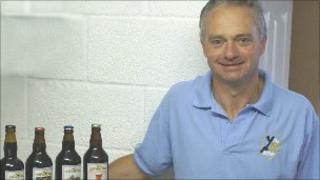 Norwich City FC have ordered a Norfolk brewer to stop selling a beer named On the Ball, claiming it infringes the club's intellectual property rights.
Colin Emms, who runs Why Not Brewery at Thorpe St Andrew, received a letter from the club threatening legal action.
Mr Emms, 53, a lifelong Canaries fan, said he would withdraw the beer but felt "bullied" by the club.
The club, which has the anthem "On The Ball, City", said any unauthorised use of its brand is unacceptable.
Mr Emms, a season ticket holder at the club's Carrow Road ground, said he first began brewing the 4.5% ABV amber ale three years ago.
The bottled beer's label features the club's canary crest.
"On the Ball, City" dates back to the 1890s and is thought to be the world's oldest football song still in use today.
Mr Emms received a letter from Jamie Arnall, the club's head of legal affairs, last month.
'Devastated'
It ordered him to "immediately cease using any of the club's intellectual property, in particular the club crest and the words 'On the Ball'".
It also ordered him to stop selling any goods or services "branded so as to suggest a connection to, or association with, the club".
Mr Emms was given a deadline of 10 June to comply or face legal action.
He said: "They are threatening and bullying me. I agreed to take the club's crest off but they still won't let me call it 'On the Ball'.
"I feel devastated. As far as I'm concerned they don't own green and yellow and 'On the Ball'.
"I just can't believe what I'm doing is going to harm a club of that size.
'Damages revenue'
"It hasn't put me off following them but it's certainly tainted my passion for them."
In a statement Norwich City FC said the club's identity was its most important asset.
"Improper use of the Norwich City identity affects the club's ability to license use of its brand to its key sponsors and partners.
"We lose the ability to control the quality of goods associated with the club and in turn this damages the level of revenue it can generate from commercial deals, subsequently reducing the amount of money for investment in the first team squad.
"The club's position on prolonged misuse of its brand is clear. After fair warning, any continuing misuse will result in further legal action and/or issuing a ban from Carrow Road."