Norfolk churches use bees to create buzz about religion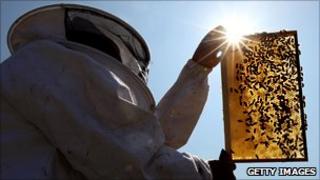 Five church parishes in Norfolk plan to reach out to residents using bees.
Hives will be installed in churchyards in Bacton, Witton, Walcott, Ridlington and Happisburgh, and people will have the chance to learn about bee-keeping.
There are also plans to take a hive into schools to teach children about conserving the environment.
Rev Phil Wood said: "I feel the church can take a lead in helping to look after the planet, and at the same time bring the local community together."
The project, which has the backing of the diocese, was conceived after Mr Wood spoke to a beekeeper about the decline in bees and an upsurge of interest in bee-keeping.
Mr Wood said: "I am very pleased to say that our diocese is also forward-looking in ecological matters and is fully behind this project."
As well as a teaching aid, he hopes the hives will help residents to reconnect with the church.
"It's another point of contact for the church to meet with people," he said.
"If we can get people together to look after bees... barriers can be brought down and people might feel that it's safe to come into church as well."
Any money raised by honey sales will go towards making the project self-sustaining and, if successful, Mr Wood hopes the scheme will be rolled out nationally.